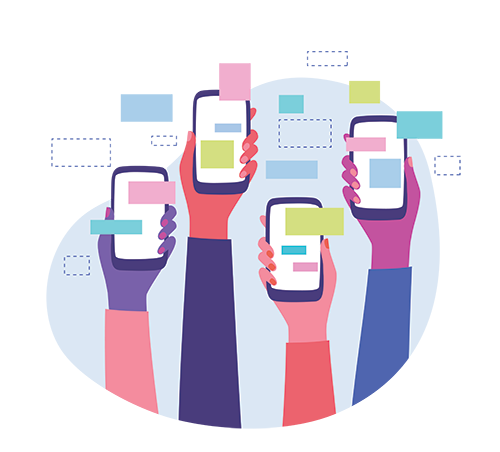 Announcing the formation of
456 Growth
A revolutionary approach to navigating the creator economy
456 Growth comprises three distinct businesses, Media, Talent, and Investment, working together to create a cohesive, data-driven model unique to the influencer marketing landscape
May 25, 2022
456 Growth, the creation of three industry veterans, today announces its formation.
Founders Dan Albert, Robert Bocchicchio, and Austin Cohen have a combined 20+ years in influencer marketing and currently support brands such as Home Chef, Hatch, and Skillshare.
Under the 456 Growth umbrella, its Talent business finds and nurtures new and existing creators, while its Media business creates scalable models of customer acquisition, revenue growth, and brand awareness through proprietary data, rapid testing, and creator relationships. The Investments arm will identify, develop, and invest in high-growth brands.
The creator economy, now worth nearly $20B and with more than 50 million self-identified creators, marks the ascension of influencer marketing. But navigating the industry has become inefficient and outmoded, while fragmented data and underdeveloped media strategies leave many brands directionless and creators stagnant. 456 Growth addresses these inefficiencies while providing education and resources to creators and brands alike.
"Our model is based on three distinct businesses because we recognized that the current system is flawed. Having these operations under one umbrella creates a different way of working with creators and brands to establish unique value for our clients both with short-term and long-term goals," says co-founder Dan Albert.
"456 Growth Media creates strategies in tandem with our trusted creators, adding unique and transparent value to our clients. What's particularly exciting for us is that we have the ability to forecast trends through the diversity of our businesses which benefits everyone," adds co-founder Austin Cohen.
456 Growth Talent offers brand partnerships, social media live training with industry experts, channel development, proprietary investment opportunities, a referral program, future internet opportunities, including crypto, NFTs, and Web3, and calendar management—all supported by a dedicated 456 Team.
Tik Tok creator Emily Vondy says of working with the 456 Growth Talent, "As a TikTok-first creator with more than 1.5M followers, building my brand has become my full-time job— the 456 teams partnered with me to harness, develop, and scale my presence. My relationship with them has allowed me to diversify my social presence and amplify my partnership value while their team focuses on day-to-day support."
456 Growth Investments identifies start-ups, disruptors, and innovative brands poised for high growth that have a defined digital footprint and provides capital and sweat equity solutions for future defining digital categories such as NFTs, Web3, and online consumer behavior technologies.
"As we look to invest, our model affords us the rare opportunity to offer creators access to invest alongside the 456 team, allowing creators to actively support and shape the brand's future, " says co-founder Robert Bocchicchio.
About 456 Growth
Our mission is to transform the traditional model of influencer marketing. Comprising three distinct businesses, Talent, Media, and Investments, 456 Growth is born of a revolutionary concept: Find, educate, and foster talent, create comprehensive, data-driven media strategies, and invest in companies of the future.
Further Information
Dan Albert, 456 Growth
[email protected]
About Our Founders
Dan Albert is a performance-based marketing expert and a co-founder at 456 Growth, with more than ten years of industry experience. Focusing on influencer marketing and emerging social media platforms and trends, He has represented creators in nationally syndicated ad campaigns for brands such Fiber One and Sabra Hummus but spends the majority of his time developing and executing direct-to-consumer ad campaigns for digital-first brands.
Robert Bocchicchio is a co-founder at 456 Growth with a hyper-focus on tech solutions and new business partnerships. Prior to 456 Growth, Robert acted as an executive branding agent, handling accounts such as Gimme Beauty, and Hatch. He has also worked at Axial, helping companies and M&A advisors connect and transact with potential investors. He began his career at Verengo Solar and NRG Home Solar, where he became one of their lead sales executives.
Austin Cohen brings both legal and contracts law expertise in addition to his industry and brand knowledge to 456 Growth as a co-founder and partner. Before 456 Growth, he served as an executive branding agent representing brands such as Care/Of Vitamins, Home Chef, and Native. Cohen formerly served as coordinator of legal and business affairs for WhoSay Inc., an influencer branding agency, now owned by Viacom. He holds a JD from New York Law School.